For a unique look, many homeowners are adding small glass tile to shower walls. This glass tile is clear and comes in many colors, and often it is mixed with tiny mosaic ceramic tiles for a colorful combination. If you want to glass tile a shower, there are a few things to know ahead of time. 
Glass tile comes in sheets, and it includes several, different colored glass and ceramic tiles all fitted onto a mesh material for easier installation. Cutting the tiles is much different than cutting ceramic tiles, because the sheet won't react well with a tile saw. So, you have to approach the job differently.
Step 1 – Finish shower walls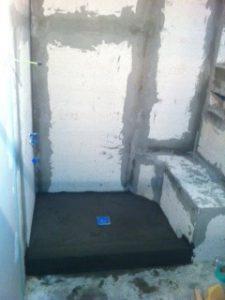 Finish your shower walls. If you are using hardi board, mortar over the seams, tape and then apply mortar again, learn how. Let the finish dry and sand smooth for a perfectly flat surface.
Step 2 – Clean the surface
Clean the surface of dirt and debris, hand sand away imperfections and bumps.
Step 3 – Cut sheets
Cut one edge of the corner-facing edges of your first tile sheets so the entire edge is perfectly straight and fits flush with the wall, with a wet saw, or tile saw. Cut each tile sheet so instead of the checked pattern of overlapping tiles, there is a straight, even edge.
Tile sheets have this pattern so they interlock with adjacent tile sheets, but all rows butting up against the corners must be cut straight. Avoid trying to interlock the tiles at the corners without cutting them.
Step 4 – Mix grout
Mix your grout in a five-gallon bucket with a mixing trowel. A pro mix of unsanded grout is best for glass tiles, however ask for a recommendation from your tile salesmen before using any grout.
Or even better, simply check our article about choosing the correct grout!
Step 4 – Apply grout
Spread the grout in an even stroke across a three-foot square section of the shower wall, starting in the lowest corner, with a ridged trowel. Properly spread grout will have a fine series of ridges, each the same height and the same depth all the way around.
For more detailed guide on applying grout click here!
Step 5 – Install tiles and level them
Press the first sheet of glass tile into the grout on the shower wall. Place a level on the tile sheet and press it down where the sheet falls above the level mark. Install the remaining sheets in the grout and level those as well.
Step 6 – Mix and spread grout
Mix and spread grout for the next section of sheets, and install the glass tile sheets. Complete the entire shower in this way.
Step 7 – Fill gaps
Mix and spread the grout over the tiles and use a float tool to work the grout into the gaps between the tiles. You will use plenty of grout because there are lots of gaps in glass tile sheets. Wipe away the excess grout with a sponge and let it dry.
Be careful not to let the grout dry on the tiles as it will stain them. Use plenty of water, a good float tool and sponge to remove all grout.
Pro Tip: Tile right up to the edge of the ceiling or wall and use a buffer zone of larger tiles if you want to create a border.